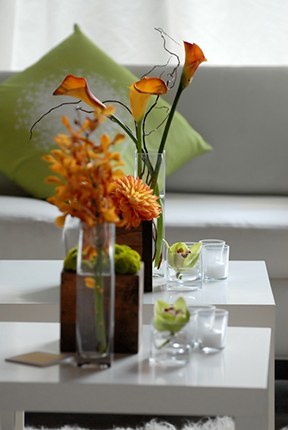 Not all homes are created equal and neither are all Realtors®. What sets me apart is my attention to the highest level of performance. I have created an innovative custom approach to marketing intended to showcase your home to a large targeted market group backed by thorough professional guidance and education throughout the process. With approximately 80% of today's consumers utilizing the internet for real estate information, emphasis is placed on developing quality internet advertising and technological applications.
STAGE ONE: Preparing the home for sale
Market Evaluation: Pricing is so important. I am actively involved in the sales market of your community and I have 25 years experience as a residential appraiser. You will feel very confident in the pricing decision after we look at three different approaches to valuation and discuss buyer motivation.

Preparing your home: A consultation by an expert stager with recommendations of changes and accents that will enhance the value of your home.

Home inspections: Evaluate the need for pre-sale termite, home or geological inspections. Suggest and complete home repairs and improvements that will increase the profitability of your home sale.

Establish goals: Markets can fluctuate, so it is important to establish your goals so that I can work hard to meet them.
STAGE TWO: Developing marketing materials
Professionally Photographed: Lighting, composition and color all contribute to creating a pleasing attractive photo presentation of your home.

www.YourHome.com: A personalized website to promote your home exclusively. No other competition on this website!

Photo Tour: A unique color slide show of your home is created for use on the website and to send to selected buyers and real estate agents.

Property Signs: Custom signs that only have your agent's phone number. Anyone interested in your home calls me. Sign calls do not go to the office where an agent might lead a prospective client to another home. Additional directional signing is used when applicable and legal.

Property Brochure: High quality brochures with color photos, prepared by a professional marketing staff.
STAGE THREE: On the market
Multiple Listing Service: Multiple photos and appealing verbiage to attract the most buyers and create an "I've got to see this one!" response.

Enhanced Realtor.com: Eye-catching banners, attractive text and strategic placement assure your home maximum exposure on the #1 web site used by potential home buyers.

Internet Exposure: Your home will be promoted on the Empire website and my personal website which features an automated MLS search for clients who are seeking properties. They can initiate their search on my site and receive emails daily with listings that meet their criteria. Your home will be featured in that service.

Broker Tour: Catered luncheon to attract the maximum number of agents. Welcome atmosphere and good food to provide a warm impression of your home.

Just Listed: 800 cards mailed to a target group of potential purchasers and neighbors.

Media Advertising: An individualized advertising campaign is created to promote your home exclusively. Print advertising includes the Contra Costa Times, San Francisco Chronicle and Wall Street Journal where appropriate. The front page photo option and Picture Perfect of the Times Real Estate section are utilized to assure that your home is predominately displayed and stands individually outside of typical firm advertising.

Walnut Creek Review: Your home will have a photo feature in the only real estate magazine mailed to every home in Walnut Creek. New publications are being developed for other communities and will be utilized as they become available.

Open House: Open houses with appropriate signs and advertising held personally by your listing agent.

Showings: Follow up via phone and e-mail to solicit feedback from agents and buyers who have considered your home.
STAGE FOUR: Pending
"Master Negotiator": I have received the prestigious "Master Negotiator" designation from the University of San Francisco. Extensive training in the art of negotiation positions me to obtain the best possible price for your home.

Communication: I will provide frequent and informative updates. You will decide the method of communication, such as phone, message, in person or via e-mail. When and how often you would like to hear from me is also established in the beginning.

Contract: Throughout the process I will advise and educate you regarding your rights, explain the contract fully and provide opportunities for questions and dialogue. I will assist you in preparing the disclosure documents and provide frequent updates regarding market trends and activity.

Inspections: Provide resources and guidance regarding inspection and seller disclosures.

Escrow: Follow up on contractual obligations, time frames, and inspections. Provide guidance and resolution for any objections or problems that arise. I have a team of professionals in all trades to find solutions to the repairs and concerns that come up during an escrow.

Closing: Review closing documents and advise the escrow company on terms of contract. Assure payment of all appropriate parties. Be present at the signing.
STAGE FIVE: Closed
Documentation: Provide an organized paper file or computer disk with all pertinent paperwork, contracts and inspections.

April 15th: You will receive a copy of the HUD statement to use in filing your tax return.

Life Time Real Estate Resource: Our relationship doesn't end when the escrow closes. I am always available for questions, market information, resources and professional advice. In the unlikely event something should arise after the close of escrow I will assist you in resolving any problems.